uCLinux Resources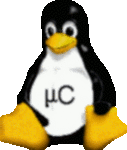 Sections:
Overview
Simtec provide μCLinux support on systems where full Linux and Debain is inappropriate because there is no MMU on the processor. This page brings together resources that are generally useful for all applications of μCLinux.
Online Support
Other pages
Availability - Price and availability.
FAQ - Frequenty Asked Questions about the uCLinux.
Application Notes - Application notes suitable for use with the uCLinux.