Qemu emulator Resources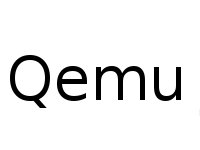 Sections:
Qemu is an open source emulator with support for numerous processors and systems. Simtec have produced a patch which introduces support for the Bast platform. The emulated system is generally complete excepting the second NE2000 based Ethernet port, NAND devices, audio and PC104 add on cards.
These patches are provided as a courtesy for our customers only and no warranty or general support is provided. The Qemu community provide support via their website.
A patch is provided for the current stable Qemu release (0.10.1). A complete pre-patched source tree is also available.
The source may be compiled with a suitable GCC 4 compiler. It should be configured with a target list including arm-softmmu and built with make. Other options should be set as appropriate for your requirements.
$ ./configure --target-list=arm-softmmu

...

host big endian   no
target list       arm-softmmu
gprof enabled     no

...

$ make

The Bast machine emulation is selected uisng the -M switch when executing the program.
$ qemu-system-arm -M simtecbast virtdisc
The ABLE environment can be started simply by specifying the path to a directory containing ABLE with the -L switch. The Bast ABLE binary should be the raw binary suitable for programming directly to flash. The file must be named s3c2410x-able.bin for the emulator to find it.
Current Release
Qemu 0.10.1 bast support patch
Qemu 0.10.1 patched sources
Older Releases
| | |
| --- | --- |
| Qemu 0.10.0 bast support patch | |
Development Releases
| | |
| --- | --- |
| Bast support patch for Qemu SVN revision 6883 | |
Online Support
Other pages