Samsung 2440 Integrated Module Resources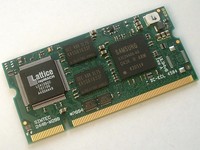 Sections:
Operating Systems
Simtec have directly sponsored the work for the ARM Linux community to ensure that the core support for the S3C2440 range of Samsung SOC is fully integrated into the mainline kernel.
Simtec continue to support kernel development of all Samsung S3c24XX parts and numerous machines including the IM2440D20. Some peripherals are not yet fully supported in the mainline kernel, until the support for these peripherals is merged an additional patch will be provided.
The peripheral patch should be applied with patch -p1, for more details on building ARM kernels Russell King maintains a Kernel Compilation document.
| | | | |
| --- | --- | --- | --- |
| Linux 2.6.29 kernel sources | | | |
| Simtec peripheral patch for Linux 2.6.29 | | | |
| Simtec peripheral patch changelog | | | |
| Pre built kernel and module set for EABI interface | | | |
| Pre built kernel and module set for OABI interface | | | |
| Simtec Linux FAQ | | | |
Simtec maintain a separate ARM Linux community site which provides a wide range of resources not specifically limited to our products.
Simtec have a policy of continuous updates for our Linux kernel patches and we recommend using the latest version for any new project. Older versions of the peripheral support patch are available, patches for the previous kernel versions have omissions in driver support and reliability issues not found in the most recent versions.
Smokey allows the creation of small application specific binary open source distributions. The distribution can be limited to command line tools and daemons, or can be extended all the way to a full graphical system including a web browser, terminal program, file manager and various other tools.
Pre built images
These JFFS2 filesystem images are the example images programmed by default into the user NAND partition of the IM2440D20
A complete JFFS2 filesystem image suitable for programming with the NFWrite tool on large page NAND devices.
MD5Sum of the large page NAND JFFS2 filesystem image suitable for use with the NFWrite tool to verify data integrity.
Simtec continue to provide the Debian project with equipment and developer resources to ensure the ARM port of this Operating System is well maintained.
The current 4.0 Release of Debian functions correctly on the IM2440D20, it is recommended the Simtec Linux 2.6 kernel is used as this gives more reliable operation.
It is increasingly popular amongst our customers to use a bootstrap method to install the Debian system, instead of using the Debian installer directly, and to address this we have provided a complete guide.
| | | |
| --- | --- | --- |
| Bootstrapping Debian Guide. | | |
Design Resources
This section provides additional resources useful for designing solutions which incorporate this module.
Mentor library
A complete library for use with Mentor Pinnacle including schematic symbol, padstacks, physical cell and PDB. These items are all exported as ASCII "hck" files to improve portability.
| | |
| --- | --- |
| Mentor library | |
Eagle library
A complete library for use with Cadsoft Eagle including schematic symbol and physical cell. This library was created with the 4.13 light edition of EAGLE.
Eagle library
Documentation
| | | | | | |
| --- | --- | --- | --- | --- | --- |
| Block Diagram | | | | | |
| Connector Pinouts | | | | | |
| Mechanical Drawing | | | | | |
| Memory Map | | | | | |
| User guide | | | | | |
Online Support
Other pages