Samsung 2440 Integrated Module FAQ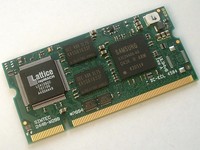 ---
The three S3C2440 provided serial ports do not have device nodes under linux?

These can be created using the mknod command as the root user

This is specifically achived by:

osiris:/#
osiris:/# cd /dev
osiris:/dev# mknod ttySAC0 c 204 64
osiris:/dev# mknod ttySAC1 c 204 65
osiris:/dev# mknod ttySAC2 c 204 66
osiris:/dev# ls -al ttySAC*
crw-r--r--    1 root     root     204,  64 Dec 23 12:14 ttySAC0
crw-r--r--    1 root     root     204,  65 Dec 23 16:50 ttySAC1
crw-r--r--    1 root     root     204,  66 Dec 23 16:50 ttySAC2
osiris:/dev#

You may wish to adjust the permissions depending on your requirements

How is the JTAG chain configured on the IM2440D20 module?

The JTAG chain passes through the S3c2440 processor and then through the Lattice LCMXO256C system CPLD.

The Lattice programmable logic device has an Instruction Register length of 8. It is recommended that no alterations be made to the programmable logic on the device and that the system CPLD is simply placed in bypass mode.

Why does my JTAG solution does not detect the processor on the integrated module?

The default settings of the JTAG tools often assume there is only a single device in the chain. Software should be configured to place the Lattice LCMXO256C on the board into JTAG bypass mode to allow communication with the processor.
Other pages