SA110 PCI module Firmware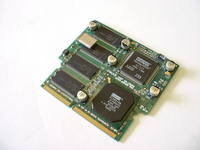 This board has both Cyclone and ABLE available. Cyclone is no longer developed and new users should use ABLE in preference. Users may switch between either firmware as required. ABLE supports more features than Cyclone so functionality may be lost during a downgrade.
ABLE
ABLE is Simtec's next generation firmware. It is cross platform and is being actively developed for all Simtec boards. The ABLE resources section has more information and documentation.
The current version of ABLE for the EB110ATX is 2.40 which is available in three binary packages.
Romwrite upgrade suitable if upgrading from a previous version of ABLE
Flash upgrade suitable for users upgrading from Cyclone
Raw binary suitable for programming with an EEPROM programmer
ABLE User Guide
Cyclone
This board was originaly shipped with Simtec's Cyclone boot loader. The current version for this board is 1.30, the release notes contain the instructions on how to perform the upgrade.
Other pages