LVDS module for EB7500FE Introduction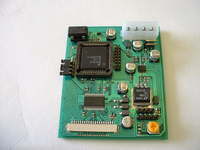 This board allows some EP7500FE based designs, such as our
EB7500ATX
, to drive a single channel LVDS LCD panel.
This interface implements protocol conversion and power sequencing to support LCD panels up to 1024*768
Hardware Description
Standard features include:
EP7500FE/VIDC genlock connector to host computer
5.25" Hard disc power connector
Single channel LVDS connector to LCD panel
Adjustable power supply to backlight inverter
Software Description
We can provide screen drivers for RISC OS and Linux based systems, together with driver software for a number of TFT panels.
Other pages
Availability - Price and availability.
Resources - Documentation and software resources for the LVDS module for EB7500FE.
Gallery - Images of the LVDS module for EB7500FE.