Cirrus 7500FE Evaluation Board Resources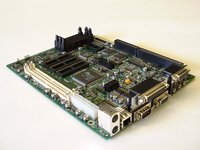 Sections:
Operating Systems
The legacy 2.4 kernel port is functional and supports all the integrated peripherals. Because of various technical issues with the 7500FE SOC Linux 2.6 development is not practical, this means Linux no longer actively developed for this platform.
Because ARM support was not fully merged into 2.4 mainline kernel sources a large architecture patch is required in addition to the board patches.
To build a kernel for the EB7500ATX the following files are required:
the resulting kernel will have the build identifier of 2.4.19-rmk6-rs1.
In addition pre-built binaries are available
Simtec have sponsored the Debian project to ensure this board is supported in the stable(woody) release. Some users may need to use our unofficial woody boot image from the Simtec Debian resources.
NetBSD has been supported on the EB7500ATX (codename riscstation) for some time.
Documentation
| | | | |
| --- | --- | --- | --- |
| Debian installation notes | | | |
| Full specification | | | |
| Memory map and peripheral locations | | | |
| Technical reference manual | | | |
Online Support
Other pages