Cirrus 7500FE Evaluation Board Introduction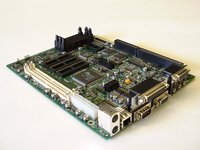 The EB7500ATX evaluation board is an ATX footprint motherboard, based around the
Cirrus Logic
EP7500FE system-on-chip. The board is supplied with a pre-patched
Linux kernel
,
Debian GNU/Linux
distribution and a number of customised Linux-based images.
Hardware Description
Standard features include:
56MHz1 EP7500FE
Two 72 pin SIMM sockets for FPM or EDO memory2.
Three ROM sockets supporting up to 6MB of Flash ROM. One 16Mbit (2MB) Device fitted as standard.
SuperIO facilities such as parallel port, serial ports, floppy,
Dual channel IDE
Integrated video supporting resolutions up to 1600*1200
Integrated 10BaseT Ethernet
Integrated ESS audio codec supporting connections for Line in, Line Out, Mic, CDROM and Aux
16 bit ISA slot
Real time clock
I2C bus
156Mhz is the manufacturers highest specification on this part, In our experience these parts are reliable at 64Mhz operation, this frequency may be requested when ordering.
2EDO memory is recomended and may be run at 50,60 or 70ns depending on parts used. Simms from Cruicial and Dabs have been used successfully.
Full specification
further information on the hardware specification is available.
Software Description
The board is supplied complete with our ABLE firmware, ready to boot your chosen operating system. The support CD supplied with the board contains:
Linux kernel binaries, pre-patched sources and patch sets.
Debian GNU/Linux boot disc and easy to install disc image.
Custom linux based images.
uClibc based source distribution for small footprint systems.
NetBSD distribution.
Linux kernel patches are integrated in the official maintainer tree and Debian boot images are included in the official debian CDs.
Applications
Adding expansion cards and peripherals to the board allows many possible systems to be prototyped. For example, adding RAM and a case produces a network computer. Alternatively, a hard drive produces a network attached storage device.
If the standard product does not meet your needs exactly, Simtec can provide custom hardware and software solutions.
Other pages