OKI 675001 Module Resources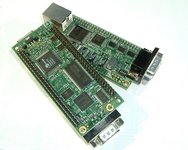 Sections:
Operating Systems
uCLinux is a distribution of Linux specifically altered to make it usable on processors which lack an MMU such as the OKI ML675001. The Simtec uCLinux resources page provides additional resources for using μCLinux with our products including an FAQ.
uClinux distribution from 14/10/2005
uClinux distribution from 15/12/2004 with 2.4.29 kernel
uClinux distribution from 15/12/2004 with 2.4.24 Kernel
uClinux distribution from 09/09/2003
Simtec have written the support for the OKI ML675001 processor for the 2.4 Linux kernel.
Because support for mmuless ARM was not fully merged into 2.4 mainline an architecture patch is required in addition to the board patches.
Linux 2.4.31
The most recent uCLinux distribution is shipped with a kernel image which is almost feature complete. The additional patches here fix specific problems with I2C and SSP port.
Linux 2.4.29
Linux 2.4.24
Related Tools
These tools are specific to the EB675001DIP and provide useful extra functionality.
Downloader
This utility allows the downloading of arbitrary binary data into the SDRAM of the module. It is typically uploaded using the boot firmware built into the ML675001 processor. Once running it configures the SDRAM and transfers binary data using the X-Modem protocol (X-Modem, X-Modem 1k and X-Modem CRC variants). This utility is licensed under the GPL, see the source tarball for more details.
The current version of the Downloader tool is 1.00 which is provided in source form and as a hex record ready for use.
| | | | |
| --- | --- | --- | --- |
| Pre built hex record | | | |
| Sources | | | |
| User Guide | | | |
Design Resources
This section provides additional resources useful for designing solutions which incorporate this module.
Mentor library
A complete library for use with Mentor Pinnacle including schematic symbol, padstacks, physical cell and PDB. These items are all exported as ASCII "hck" files to improve portability.
| | |
| --- | --- |
| Mentor library | |
Eagle library
A complete library for use with Cadsoft Eagle including schematic symbol and physical cell. The library includes three variants of the module with its Ethernet and JTAG connectors present or absent. This library was created with the 4.13 light edition of EAGLE.
Mechanical Drawing
A mechanical drawing of the module detailing all physical dimensions. This is available in several additional formats in the Documentation section.
User CPLD
Some versions of the EB675001DIP have a user programmable CPLD, this is a Xilinx XC9572XL device. This device is attached to the CPU address bus and two chip selects enabling the CPU to address the CPLD in an extremely flexible manner.
There are 40 CPLD pins available on the main DIP connectors allowing almost unlimited applications. Application notes demonstrate the implementation of a variety of specific functions for this module.
Xilinx provide webpack which is a comprehensive, freely available, design and synthesis tool.
The Xilinx has 72 macrocels available however one of these must be used to control the IOREADY line, to enable ease of development a selection of template and example projects for the Xilinx webpack programming tools are provided, which have all the necessary changes made. Also available is a guide to using these template projects.
| | | |
| --- | --- | --- |
| Xilinx webpack example VHDL project | | |
| Xilinx webpack example Schematic project | | |
| Template files for creating new projects in Xilinx webpack | | |
| Guide for examples and templates | | |
Datasheets
These datasheets are the manufacturer provided information for the parts used .
Please note Simtec is not responsible for the content of external sites.
Documentation
| | | | | | | |
| --- | --- | --- | --- | --- | --- | --- |
| μCLinux build notes for 14/10/2005 release | | | | | | |
| μCLinux build notes for 15/12/2004 release | | | | | | |
| μCLinux build notes for 15/12/2004 release 2.4.29 kernel | | | | | | |
| μCLinux build notes for 9/9/2003 release | | | | | | |
| 3D VRML Model | | | | | | |
| Bootstraping EB675001DIP | | | | | | |
| Connector and link pinouts | | | | | | |
| Detailed block diagram | | | | | | |
| Mechanical Drawing | | | | | | |
| Memory Map and control registers | | | | | | |
| User guide | | | | | | |
Online Support
Other pages