ISA ISP1161 based USB interface Introduction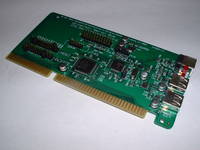 This evaluation board allows rapid prototyping of a
Philips
ISP1161A USB host/device controller. It also allows USB host functionality to be added to systems that do not have PCI expansion.
Hardware Description
The EB1161ISA is an ISA card with two host ports and a device port. As with all Simtec products, the card is designed and manufactured in-house to our usual high standards.
Main features of the EB1161ISA:
Philips ISP1161A USB 1.1 compliant host controller with integral two port root hub.
Two root hub host ports, with power switching ensuring compatibility with the ISA bus specification.
Full over-current and ESD discharge protection for reliable operation during plugging and un-plugging of devices.
High/low speed multi-function device port with concurrent host and device operation. (Not supported in software at this time).
Mature and proven hardware design.
Software Description
The evaluation board is supplied with a Linux driver, complete with sources.
Other pages
Availability - Price and availability.
Resources - Documentation and software resources for the ISA ISP1161 based USB interface.
Gallery - Images of the ISA ISP1161 based USB interface.