StrongARM 110 Evaluation Board Specification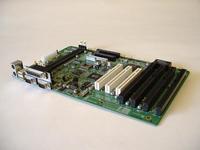 Hardware Specification
The board is currently available in a single Gold standard configuration, fully custom platinum boards can be manufactured on request. There is no minimum quantity for a Platinum board but it is normally only cost effective for 25-50 units or more. For more information on a customised board, please contact sales.
The full feature list and the included items in the standard configurations are listed below:
Board Features
Feature
Specification
Gold
Processor
IntelSA110 - 233MHz StrongARM CPU
233MHz
Memory
SDRAM
256MB Max
Two DIMM sockets
NOR Flash
Up to 64Mbit single boot device
256KB
RTC/CMOS RAM Module
241 bytes of CMOS memory
Ports
2 USB host ports with ESD discharge and over-current protection and software controlled power switching and current limiting
2 host
SPP,EPP, ECP Parallel port
Three serial ports (Up to two buffered RS232 at any one time)
3
Two PS/2 ports (Keyboard/Mouse)
Storage
Primary IDE channel standard 40way connector with UDMA/33
Secondary IDE channel standard 40way connector with UDMA/33
Floppy connector standard 36way connector
Power
ATX Power connector
3V Li coin cell for RTC
Maximum power consumption of configuration (no expansion cards fitted)
5W
Expansion
JTAG header
PCI, standard 32bit 33MHz PCI slots
3
ISA, standard 16bit ISA slots
3
Dimensions
Standard ATX format 12"x7.4" (305mm x 188mm)
Power
A fully specified Gold board with CPU clocked at 233MHz, memory bus at 66MHz , 256MB of SDRAM, all options fitted was used to profile the worst case power usage with no expansion cards or USB peripherals fitted. All figures are subject to a 1% measurement accuracy and are for guidance purposes only.
Tested Configuration
Current
Total power usage
3.3V
5V
5V Standby
12V
-12V
Serial only
1000mA
250mA
15
25mA
25mA
4.9W
Other pages