StrongARM 110 Evaluation Board Resources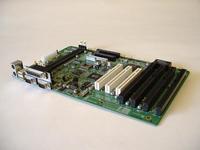 Sections:
Product Change Notices
Operating Systems
The core support for Strongarm 110 processors with footbridge has been included in the mainline kernel for several years. The footbridge architecture (the northbridge name is used to identify these machines) is PCI based and as such all peripheral support is provided by standard device drivers.
The EB110ATX (codename cats) has a standard ALI southbridge to provide its IDE, PS2, USB, parallel and serial interfaces. In addition the footbridge provides a "debug" serial port (accessed as ttyFB0). All other expansion is provided by the PCI and ISA slots
To build a kernel with full peripheral support for this board the following is required:
Kernel Compilation
document.
Simtec maintain a seperate ARM Linux community site which provides a wide range of resources not specificaly limited to our products.
The legacy 2.4 kernel port is functional although some minor additional features are provided by an extra patch. The 2.4 patches are provided here purely for historical interest and is no longer actively developed.
Please note the -nw patches are not required for the proper operation of this platform. The standard ARM Linux sources will compile and work without change. These patches merely represent enhancements over the normal kernel code.
Simtec have sponsored the Debian project to ensure this board is supported in both the current stable(woody) release and the forthcoming sarge release. Some users may need to use our unofficial woody boot image from the Simtec Debian resources. The currect Debian-Installer images should be suitable for installing sarge.
NetBSD has been supported on the EB110ATX (codename cats) from the boards initial release. Initialy cats was part of the NetBSD/arm32 port but has now moved to its own port page. The NetBSD team often still refer to Chalice Technology brand which we used for these products. Also the legacy Cyclone bootloader is often referred to, this has been superseded by ABLE.
At the beginning of 2004 the OpenBSD team started a port to the EB110ATX they maintain a port page detailing their progress.
Documentation
| | | | | |
| --- | --- | --- | --- | --- |
| EB110ATX hardware specification | | | | |
| Product Change Notice 001 | | | | |
| Technical reference manual | | | | |
Online Support
Other pages