StrongARM 110 Evaluation Board Introduction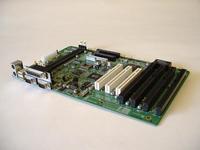 The StrongARM 110 Evaluation Board is a an ATX footprint motherboard, based around the
Intel
21281 SA110 StrongARM, the 21285 support chip and the
Acer Labs
M1543c south bridge. The board is supplied with a pre-patched
Linux kernel
,
Debian GNU/Linux
distribution and a number of customised Linux-based images.
Hardware Description
Standard board features include:
233MHz Intel StrongARM110
Two DIMM sockets for 66MHz SDRAM
SuperIO facilities such as parallel port, serial ports, floppy, UltraDMA-33 IDE, etc.
Two USB host ports
Expandable via three PCI and three ISA slots
Real time clock
I2C bus
Re-programmable FLASH ROM
Further information on the hardware specification are available.
Software Description
The board is supplied complete with our ABLE firmware, ready to boot your chosen operating system. The support CD supplied with the board contains:
Linux kernel binaries, pre-patched sources and patch sets.
Debian GNU/Linux boot disc and easy to install disc image.
Custom linux based images.
uClibc based source distribution for small footprint systems.
NetBSD distribution.
Linux kernel patches are integrated in the official maintainer tree and Debian boot images are included in the official debian CDs.
Applications
Adding expansion cards and peripherals to the board allows many possible systems to be prototyped. For example, adding RAM, a network card and graphics card produces a network computer. Alternatively, a hard drive and a network card produces a network attached storage device. Other possibilities are:
Set-Top Box
Router
CD duplicator
MP3 juke box
NAS unit
Server
Other pages