UNI-Pod Introduction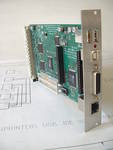 A multifunction podule giving Ethernet, USB, IDE and expansion ports. It is a customer specific project any queries about this product should be directed to
Stuart Tyrell Developments
Hardware Description
The UNI-Pod is a 32 bit podule which provides Ethernet, USB, IDE and expansion port. The card is designed and manufactured in-house to Simtec's usual high standards for Stuart Tyrell Developments.
The general features of the card include
2048k of user re-programmable flash ROM. Reprogramming utility supplied (!Snafu)
Full 32bit operation
USB
Features include
Philips ISP1161A USB 1.1 compliant host controller with integral two port root.
Two root hub host ports, with power switching ensuring compatibility with the podule specification.
Full over-current and ESD discharge protection for reliable operation during plugging and un-plugging of devices.
High/low speed multi-function device port with concurrent host and device operation.
IDE
Features include
Two independant IDE channels, supporting up to four devices.
Up to 4.2MB/s transfer rate.
Ethernet
Features Include
10/100Megabit
Full or half duplex operation
Up to three megabytes per second throughput
Diagnostic lights to assist with rapid setup
Expansion
2nd printer port for the addition of standard printers.
Enhanced econet-compatible expansion port.
Other pages