GD Technik Ethernet module Introduction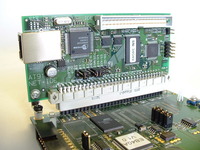 This module allows connection of Ethernet to Atmel devlopment boards. It is a customer specific project any queries about this product should be directed to GD Technik.
The GD Technik AT91-NET adds Ethernet connectivity to the Atmel EB40A and EB55 ARM development boards, giving the design engineer:
A complete reference design, to accelerate the product design phase.
10/100Base-T for high-speed data transfer.
IDE port implementation for future expansion.
Additional 16Mbit Flash memory.
Software source code for UDP level data transfer, demonstrating embedded control capabilities.
Other pages