Integrated module thin client base board FAQ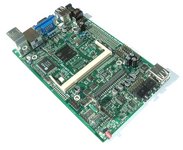 ---
How is the JTAG chain configured on the BBD20EUROA board?

The JTAG chain goes to the Integrated module and then through the Lattice ISP4032 programmable CPLD.

The Lattice ISP4032 has an Instruction Register length of 8.

Why does my JTAG solution does not detect the processor on the integrated module?

The default settings of the JTAG tools often assume there is only a single device in the chain. Software should be configured to place the Lattice ISP4032 on the board into JTAG bypass mode to allow communication with the processor on the Integrated Module.

Care should be taken as the Integrated module may have additional logic devices on board, however the processor is typically the first device in the chain.
Other pages