Integrated module thin client base board Availability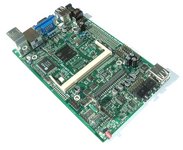 This product is in production and available to purchase from Simtec. The product code is BBD20EUROA. Please use this code to unambiguously identify this product when ordering or using our support services.
This product has a complete range of bronze, silver, gold and platinum support options.Full explanation of what each support level represents can be found on the support area.
For ordering details please see General Ordering Options any other queries or special requirements should be directed to the Sales team.
The BBD20EUROA is available in a single specification. A discounted bundle of base board and IM2440D20G module is also available.
Order Code
Description
Quantity
1+
10+
100+
1000+1
BBD20EUROA
Base Board Only
£110
£99
£89
£80
BBD20EUROA + IM2440D20G
Board and IM2440D20G
£199
£179
£162
£145
NOTE 1: these pricing are for guidance purposes only, please contact Simtec for a quote.
Other pages