USB11 Podule Resources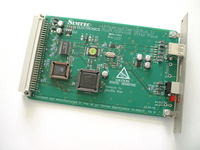 Sections:
Support
Support for this product is provided directly to end customers through our partners.
Developer and partner support is provided directly by Simtec. Developer packs, which include full support, may be purchased directly by contacting Simtec Sales.
In addition non-professional development is supported through the RISC OS USB web site.
Software
An update to version 2.01 (10th December 2003) of the core stack is now available.
Issues fixed with this release (full changelog)
Some RISC OS Specific changes to module building.
Integration of changes from other OS developments.
Improvements to USBPrinting support (this makes the module too large to fit in the default !SNAFU ROM set - Users who require printer port support at startup will need to use the !USBPrint app from the extras directory)
An update to this release is recommended for all users.
To re-program the podule flash with up to date modules !Snafu 1.68 is required. This is included in the USB software update archive.
The USB system requires a Universal boot sequence to be installed.
Developers
The version 2.01 libraries and headers are available for developers (10th December 2003).
Documentation
Hardware installation instructions
Developer documentation is available as a compressed collection of html files.
A presentation about USB on RISC OS. These are the slides, hence the basis, of the talks given by Simtec at several venues on behalf of our resellers.
Online Support
Other pages