USB11 Podule Introduction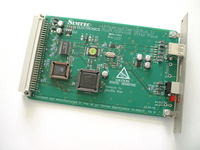 The USB11-POD is a USB1.1 interface suitable Acorn computers, including the RISC PC, A7000 and A5000. The interface includes a HID (Human Input Device) class driver and there is a range of
third party device drivers
available.
This product has been discontinued, however the UNI-Pod replaces the functionality this product provided.

Hardware Description
The Simtec USB interface is a 16 bit podule with two host ports and a device port. As with all Simtec products, the card is designed and manufactured in-house to our usual high standards.
Main features of the USB11
Dual function podule with 16 bit EASI space compatibility.
Philips ISP1161A USB 1.1 compliant host controller with integral two port root hub.
128 kilobytes of user re-programmable flash ROM. Reprogramming utility supplied (!Snafu).
Two root hub host ports, with power switching ensuring compatibility with the podule specification.
Full over-current and ESD discharge protection for reliable operation during plugging and un-plugging of devices.
High/low speed multi-function device port with concurrent host and device operation. (Not supported in software at this time).
Mature and proven hardware design.
Software Description
The interface is supplied with a RISC OS port of Simtec's embedded USB stack supporting the following features:
Integral USB hub driver that maintains and manages device connectivity across hubs, tracking all usb events.
Supports all types of USB transactions.
Full implementation of USB power management. Devices will only be enabled if there is sufficient power available on a port to power the device properly. This prevents accidental overloading of the USB power supply.
Transparent loading and starting of drivers when new devices are detected.
Task scheduler to handle multiple requests from multiple drivers, ensuring that operations are performed smoothly and in order.
Bandwidth resource allocation that guarantees a level of service to a device and prevents devices from starting if sufficient bandwidth is not available.
Multiple interface methods to the stack to support drivers written as modules, tasks, wimp tasks or stand-alone applications.
Compatible with RISC OS 3.10 onwards.
Multi-card support allowing concurrent use of more than one card in a computer.
Other pages