NET 100 Card Resources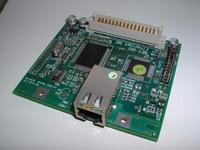 Sections:
Support for this card should be sought from your cards supplier, one of CTA Direct, Rcomp Interactive and Stuart Tyrrell Developments.
The material provided here is non vendor specific and provided as a service to the above mentioned resellers.
This card is supplied with driver and support utilities, for RISC OS, programmed in its on board flash when it is shipped. These items may be found by default in the resourcefs apps directory.
Provided with the card is
A DCI4 driver called EtherX
A Bootp and TFTP client to allow for remote configuration and booting.
A !Boot structure which can be merged with a modern RISC OS !Boot allowing for easy setup.
!Snafu to reprogramme the cards flash memory.
Available resources
Archive of the !Boot structure as shipped with the cards.
The latest driver software (EtherX 1.26) can be downloaded as part of !Snafu. To find out what version of the driver software you have, type *help etherx at the command line.
Original OEM user guide.
Miscellaneous notes
The MAC address is based upon the computer's unique serial number. If the computer's ID chip is not fuctioning correctly this may result in a MAC adress of 00:01:3D:00:00:00 or 00:01:3D:FF:FF:FF (This may be checked using the command *EXInfo). If two machines on a network have this issue, the network will cease to function correctly.
Online Support
Other pages