NET 100 Card Introduction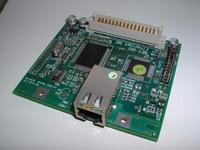 The NET100 is a 10/100 Megabit Ethernet card for use in the RISC PC and A7000 range of computers.
Hardware Description
The Simtec NET100 is a innovative two chip design built in house to Simtec high standards which ensures consistently good performance and reliability.
Main features of the NET100
10/100Megabit
Full or half duplex operation
512K user programmable flash
Up to three megabytes per second throughput
Diagnostic lights to assist with rapid setup
OEM options for parallel port on 8k battery backed Sram
Software Description
The NET100 is provided with drivers for RISC OS and ARM Linux.
RISC OS software provides
Full DCI 4 compatibility
Control of duplex and speed settings.
Supplied with !Snafu an advance flash reprogramming utility which allows end users to change the software content of the card as they see fit.
Bootp client to allow for dynamic address allocation.
OEM branding of the card with full details including resellers name address and contact details.
Other pages