16 bit IDE interface for Acorn Computers Resources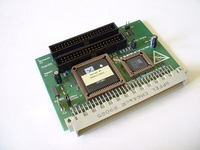 Sections:
Software
Several items are available on-line to download
The latest driver software (version 1.11h) can be downloaded as part of !Snafu. To find out which version of the driver software you have, type *help idefs at the command line
Pre RISC OS 4 IDEFS modules are available.
The latest version of IDETool (version 1.11f). This version of IDETool required IDEFS version 1.11h or later for correct operation.
Documentation
Miscellaneous notes
Sharing IDEFS partitions
RISC OS will only remember ShareFS configurations for standard ADFS drivers. To work around this problem, there is an obey file and notes available.
Capabilities
The currenct software supports partitions totalling up to 64Gb. On larger drives it is not possible to utilise the remaining space for RISC OS partitions although it may be used for Linux or NetBSD.
Online Support
Other pages
Introduction - A general introduction to the 16 bit IDE interface for Acorn Computers.
Availability - Price and availability.
Gallery - Images of the 16 bit IDE interface for Acorn Computers.