16 bit IDE interface for Acorn Computers Introduction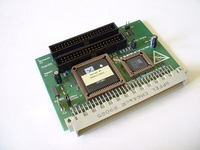 Using advanced custom logic and the latest surface mount technology, we have created some of the smallest, most integrated and possibly easiest to use IDE cards available for the Acorn range of computers. The 16 bit interface is suitable for the RISC PC, A7000, A5000, A540, A400 and A300. An
8 bit card
is available for the A30x0 and A4000 computers.
This product has been discontinued, however the UNI-Pod replaces the functionality this product provided.

Hardware Description
Standard board features include:
16 bit podule interface
2 IDE ports, supporting up to 4 devices
1Mb Flash ROM for driver software
Transfer rates of 2MB/s in a RISC PC, increasing to over 3MB/s in an ARM3 A300
Software Description
The card ships with our driver software programm ed into ROM and the drive formatting software supplied on disc.
Driver so ftware features:
Support for HDD, CD ROM, ZIP100, ZIP250, LS120 (Not Ac orn format FD) and Compact Flash cards. Microdrives can be supported with modifi ed driver software. CD writers can be supported using CDBurn.
VProtect module for virus detection
Support for up to eight active partitions an d easy mount/dismount from the filer
The formatting software, IDET ool supports driver partitioning and the latest RISC OS4 formats.
The lat est driver software can be re-programmed using !Snafu
Other pages
Availability - Price and availability.
Resources - Documentation and software resources for the 16 bit IDE interface for Acorn Computers.
Gallery - Images of the 16 bit IDE interface for Acorn Computers.