AN0016 - Adding an MMC card slot to the EB2410ITX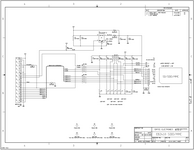 Sections:
Introduction
The Samsung 2410 SOC used on the EB2410ITX has provision for a SD/MMC port. This port is available from the PL14 Auxillary expansion connector on pins 19 to 24. These pins are (as with most pins on the 2410) mutifunction and were previously allocated as GPIO, if being used for MMC/SD they cannot be used as GPIO and the simple matrix keyboard cannot be used.
Hardware
Overview
The basic hardware design is simply to connect the appropriate lines to a suitable connector. The only complication is ensuring suitable pull up resistors and noise suppression is included.
Schematic
The schematic was prepared in mentor pinacle.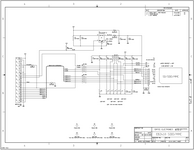 The complete schematic diagram is reasonably straightforward (please refer to the documentation section for this schematic in alternate formats)

Board Layout
The schematic was used to realise a compact board design mainly constrained by the size of connectors required.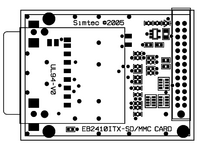 Software
The software to use the s3c2410 MMC controller is being integrated into the 2.6 series Linux kernels. The simtec patchset contains the community patches to use this port.
Documentation
| | | |
| --- | --- | --- |
| Schematic Diagram | | |
Online Support
---
Disclaimer
Information contained in these publications regarding device applications and the like is intended as suggestion only and may be superseded by updates.
It is your responsibility to ensure that your application meets with your specifications. No representation or warranty is given and no liability is assumed by Simtec Electronics with respect to the accuracy or use of such information, or infringement of patents or other intellectual property rights arising from such use or otherwise.
Trademarks
All trademarks mentioned are the property of their respective owners.