AN0005 - Three channel H bridge motor driver for the EB675001DIP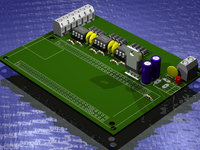 Sections:
Introduction
This application note describes the connection of three H bridge drivers to the
EB675001DIP Module
. The Microchip TC4427 integrated MOSFET driver was selected to simplify the design, this device is capable of directly driving small motors whilst providing sufficient protection to the EB675001DIP. The user CPLD is used to provide the three PWM outputs and the associated control signals so no futher logic is required.
Hardware
The basic design is very straightforward, the three TC4427 are simply connected to six convenient CPLD lines. Each pair of lines are used to control direction and speed. These lines are pulled high with 10K resistors to ensure no accidental switching during resets or indeterminate states. A full discussion of H bridges and drivers is outside the scope of this application note, however a suitable resource on motor drivers and robotic construction is Intermediate Robot Building (Please note Simtec Cannot be held responsible for the contents of external resources).
The TC4427 may be substituted with IXDN404PI (available from digi-key) which are pin compatible and have a much higher drive current capability.
The outputs are connected through four 1N5817 Schottky diodes, this provides both under and overshot protection from motor EMF induced voltages.
This design will suffice for small motors, the prototype was tested with some 9V LEGO motors and proved adequate. In order to drive larger motors requiring more power additional transistor drivers will be required on the outputs.
Schematic
The schematic and board were created with the "light" version of the Cadsoft EAGLE package. This package was used to demonstrate what can be achieved, even in a half size eurocard, with the flexibility of the EB675001DIP module.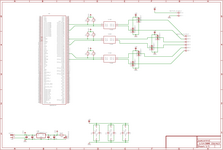 The schematic was constructed using standard EAGLE library with a few additions
The complete schematic diagram is straightforward. (please refer to the documentation section for this schematic in several formats)
Board Design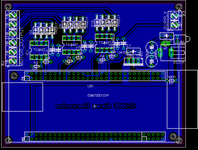 A PCB design has been prepared in EAGLE. The main design parameters were :
Track width of 0.6mm (approx 24mil)
Track gap of 0.2mm (approx 8mil)
Simple single sided design
Use of inexpensive through hole components
because of this this board should be straightforward to manufacture.
A complete archive of the generated Gerber has been produced for convenience.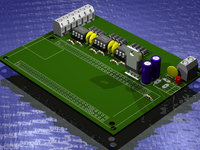 A 3D povray model was created with Eagle 3D. This model is useful in designing enclosures and for visualising the completed design.

Prototype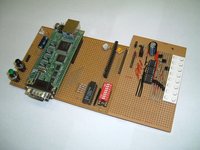 A prototype has been constructed using stripboard.
Firmware
A CPLD design for the three PWM controls was created and a synthesised JEDEC file produced.
Online Support
---
Disclaimer
Information contained in these publications regarding device applications and the like is intended as suggestion only and may be superseded by updates.
It is your responsibility to ensure that your application meets with your specifications. No representation or warranty is given and no liability is assumed by Simtec Electronics with respect to the accuracy or use of such information, or infringement of patents or other intellectual property rights arising from such use or otherwise.
Trademarks
All trademarks mentioned are the property of their respective owners.