AN0002 - Attaching an LCD module to the EB675001DIP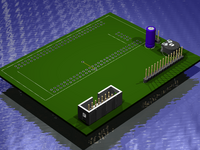 Sections:
Introduction
This application note describes the addition of a HD44780 type LCD module to a EB675001DIP module. A minimal number of components is required for this and some very simple CPLD code. Indeed the EB675001DIP modules are shipped with this code in by default as it is used as part of the product test process.
Hardware
The hardware components required consist of the EB675001DIP module, a suitable HD44780 LCD module and a variable resistor for the LCD contrast control.
The schematic and board were created with the "lite" version of the Cadsoft EAGLE package. Though this design may be trivially reproduced on strip board.
Schematic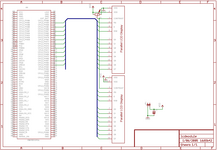 The schematic was constructed using standard EAGLE library with a few additions
The complete schematic diagram is straightforward. (please refer to the documentation section for this schematic in several formats)
Board Design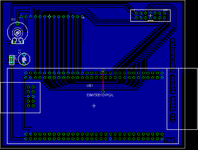 A PCB design has been prepared in EAGLE. The main design parameters were :
Track width of 0.3mm (approx 12mil)
Track gap of 0.2mm (approx 8mil)
Single layer design
Use of inexpensive 0603 discreet
these parameters mean this board should be very easy to manufacture although the design can be realised with simple strip board with little difficulty.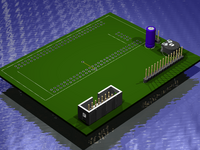 A 3D povray model was created with Eagle 3D. This model is useful in designing enclosures and for visualising the completed design.

Prototype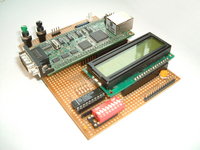 A prototype has been constructed using stripboard.
Firmware
The complexity of this project (such as it is) comes from the CPLD code which is little more than an address decoder. The webpack project was created from the EB675001DIP example project.
Software
ABLE contains some basic display commands for modules attached in this manner. There is also a LCDProc project patch for use with the module in μCLinux
Documentation
Online Support
---
Disclaimer
Information contained in these publications regarding device applications and the like is intended as suggestion only and may be superseded by updates.
It is your responsibility to ensure that your application meets with your specifications. No representation or warranty is given and no liability is assumed by Simtec Electronics with respect to the accuracy or use of such information, or infringement of patents or other intellectual property rights arising from such use or otherwise.
Trademarks
All trademarks mentioned are the property of their respective owners.